Product Description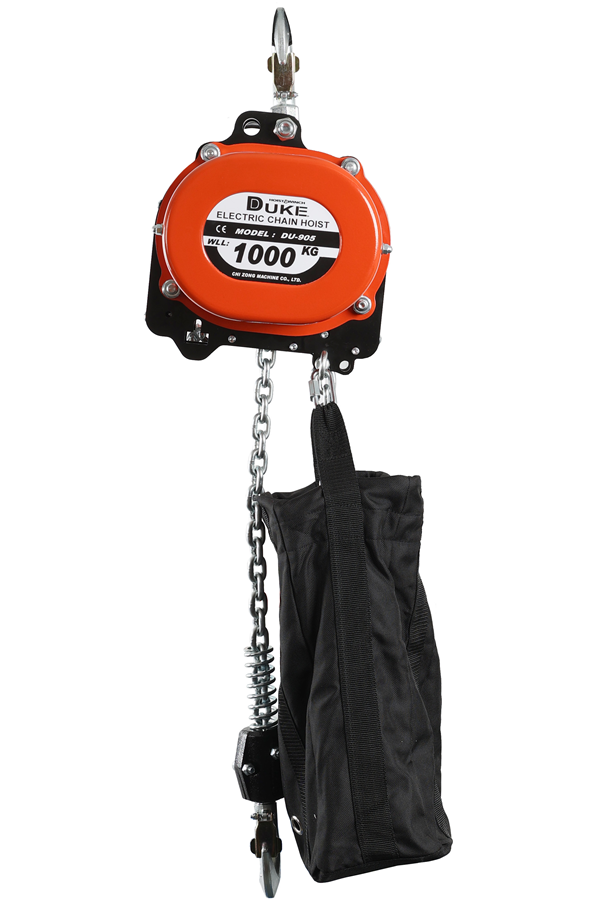 DU-905
Application:
Duke electric chain hoist is particularly designed for various workplace applications,such as general factories, warehouse, construction, plumbing, and agriculture industries.

Motor System :
1.Applied with industrial grade high efficiency induction motor.
2.Enameled wires with heat resistance up to 180 degrees Celsius, which is specially designed for heavy duty works.

Brake System :
Applied with high friction coefficient electromagnetic disc brake and no adjustment required, which provides smooth and reliable operation.

Electric Control System :
Equipped with 24V low voltage control (electromagnetism) for safety purposes.

Safety System :
1.Upper and lower limiters are to secure hoist body and load object.
2.A reverse phase relay that protects the hoist from incorrect wiring.
3.Electric overload device provides protection against overloading by cutting off the power immediately once overloading occurs.

Load Chain:
Directly supplied from reputable FEC Japan, which is made of alloy steel material in grade 80 and four times safety factor.

Gear System :
Planetary gearing design guarantees a powerful loadability and durable usage.

Upper Lower Hook Unit:
1.Made of alloy steel material by hot forging formation in four times safety factor.
2.A ball bearing is applied in the lower hook against 360 degree rotation.

| | |
| --- | --- |
| Model | DU-905 |
| Capacity | 1000Kg |
| Voltage | 415V |
| Eelctric Control | Electro Magnetism |
| Speed | 6 m/min |
| Motor | 2HP (Type: Induction) |
| Chain Falls | 1 |
| Chain Size | 7.1mm x 20mm |
| Lift | 3M |
| Winch Body | 430x290x600mm |
| Net Weight | 45Kg |
See more detail about W.K MACHINERY & HARDWARE PTE. LTD.